Table of Contents
15 Best Places To Visit In Northern Ireland
Northern Ireland is an absolute gem of a country, nestled in the far corner of our beautiful Island of Ireland. Northern Ireland has everything from rolling green countryside to stunning coastal cliffs to captivating ancient castles; Northern Ireland really has it all!
This richly historical nation will provide endless exploration opportunities for anyone looking for an unforgettable journey into Irish culture and heritage. Discover why this breathtaking destination should be at the top spot on your list today!
1. The Giant's Causeway coastal route
The Giant's Causeway is a 3-billion-year-old testament to Mother Nature! This extraordinary UNESCO World Heritage Site in Northern Ireland offers tourists an unforgettable experience. Step onto the basalt columns, forged from ancient volcanic eruptions, and explore its breathtaking beauty that has been drawing visitors for centuries.
A guided tour or leisurely stroll along the picturesque coastal path will give you stunning views of this magical wonder – don't miss it on your next trip abroad!
2. The Dark Hedges
Northern Ireland is home to the beautiful Dark Hedges, located near Stranocum village in County Antrim, this remarkable site has become one of Northern Ireland's most iconic destinations and is not to be missed! Originally planted in the eighteenth century by James Stuart as an entrance to the foreboding Gracehill House, this majestic scenery has become a globally recognized feature through its place in the popular television series Game of Thrones.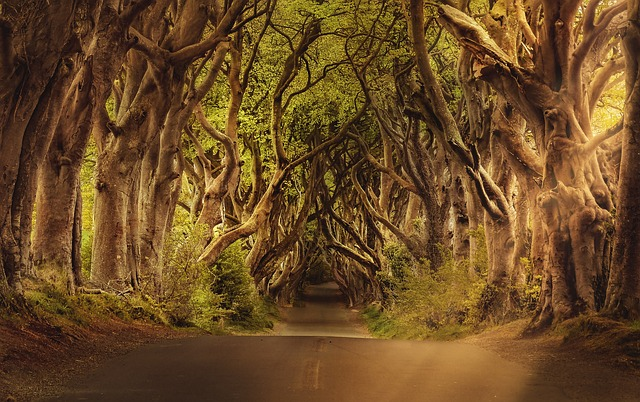 Fans of the show flock to Northern Ireland for a glimpse into a fictional universe that was born from this enchanting forest hallway. Though named for something sinister and foreboding, the Dark Hedges have become beloved to many throughout Northern Ireland, spinning tales of magic and wonder while bearing testament to our collective fascination with fantasy adventures.
3. Dunluce Castle
Discover the history and hauntings of mythical Dunluce Castle in Northern Ireland. This medieval wonder perched atop a cliff overlooking the Irish Sea has stood as an iconic symbol since its construction eight centuries ago. Explore true tales of battles, sieges and apparitions with a guided tour, or stand amidst its crumbling walls to admire breathtaking views that promise unforgettable memories!
4. The Mourne Mountains
From its rolling hills to spectacular coastline, the Mourne Mountains offer some of County Down's most impressive outdoor experiences. A true paradise for adventurers, this natural beauty is perfect for hikers looking to explore winding paths and cyclists wanting a challenge on rugged terrain.
Whether it be rock climbing or simply admiring tranquility of its calm lakes – you won't want your time in The Mournes come to an end!
5. Belfast
Belfast is the colorful heart of Northern Ireland, where history and culture come alive. From top attractions like Titanic Belfast to historical gems such as Belfast Castle and Ulster Museum – there's something for everyone!
And don't forget about its lively music scene; with traditional Irish pubs and live music venues dotted throughout this vibrant city, it promises a memorable adventure.
6. The Causeway Coastal Route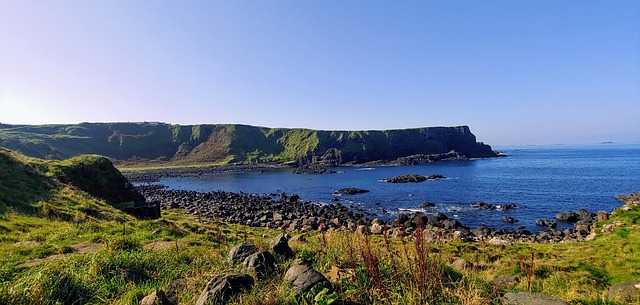 Take the Causeway Coastal Route and experience one of the world's most remarkable drives! Witness stunning views of Northern Ireland as you journey between Belfast and Londonderry.
With rolling hills, historic landmarks, and a awe-inspiring coastal landscape to explore – this is an opportunity that shouldn't be missed for any traveler looking for more than just sightseeing.
7. The Old Bushmills Distillery
The Old Bushmills Distillery is a working distillery located in the village of Bushmills in County Antrim. This historic site is said to be the oldest licensed whiskey distillery in the world and offers visitors a fascinating insight into the history and heritage of Irish whiskey.
Visitors can take a guided tour of the distillery, sample some of the famous Bushmills whiskey, and learn about the traditional techniques used in its production.
8. The Gobbins and amazing cliff face Walk
Northern Ireland boasts one of the country's most unique and rewarding outdoor activities, and the Gobbins Cliff Face Walk is definitely on of the Places To Visit In Northern Ireland. Located just outside of Belfast in the spectacular Glens of Antrim, this is the perfect combination of a hill walk and hiking experience. Those who walk along The Gobbins will be treated to an array of impressive sea cliffs, tunnels, bridges and paths carved into the basalt rock that lead to stunning bird's-eye views of Northern Ireland's rugged coastline.
With its tricky suspension bridges over crashing waves, many steps and ladders as well as narrow pathways – it's no wonder The Gobbins has become one of Northern Ireland's premier adventures for both nature enthusiasts and thrill seekers alike.
9. Glens of Antrim
Northern Ireland is known for its beautiful and expansive natural scenery, and the Glens of Antrim offer some of the best hillwalking opportunities around. Located just outside Belfast on Northern Ireland's stunning Causeway Coast, this region is perfect for both novice and experienced hikers alike.
The glens provide great views of Northern Ireland's lush valleys and low-lying hills, with plenty of options for walks along the coast or up into the highlands. With several walking trails ranging in difficulty, there is something for every level of hiker in this breathtaking part of Northern Ireland.
10. The Carrick-a-Rede Rope Bridge
Places To Visit In Northern Ireland must include the spectacular Causeway Coast is renowned around the world and is an essential destination for any traveller to Northern Ireland. One of the highlights of a Northern Ireland hillwalk or hiking tour is a visit to the Carrick-a-Rede rope bridge, which stretches from Northern Ireland to Carrickarede Island.
Established over 350 years ago by salmon fishermen, this daring rope bridge spans 20 meters across a chasm created by violent seas. Those brave enough to try it will be rewarded with stunning views of the Northern Coast and nearby Giant's Causeway.
With its captivating history and gorgeous backdrop, the Carrick-a-Rede Rope Bridge draws in thousands of tourists each year – definitely something that's not to be missed if you're visiting Northern Ireland!
11. The National Trust Properties
Northern Ireland is home to an extensive number of compelling and historically significant National Trust Properties. For natural beauty seekers, there are many hillwalks and hikes to explore throughout Northern Ireland.
Castle Ward House in Northern Ireland is one of the best places to visit. Owned and managed by the National Trust, Castle Ward House provides a window into the past due to its unique architecture, which appears straight out of an 18th-century movie set. It stands majestically on the shores of Strangford Lough. It includes an imposing walled garden with several walks around the estate dedicated to writing inspiration for its famed literary associations.
Inside, visitors will be delighted by an interesting digest of historical collections from military artifacts to artwork from local artisans. Best of all, you can explore this piece of history through various interactive workshops and events funded from the interpretation projects that support heritage tourism within Northern Ireland.
12. The Londonderry Walls
The Londonderry Walls are an iconic Northern Ireland attraction. Found only in Northern Ireland's second city, Derry (also known as Londonderry), the walls have been standing for over 400 years and on a sunny summer day, there's no better way to explore the city than by walking along them.
The journey will take you around the old city of Derry where you can discover hidden gems and experience first-hand what life was like centuries ago. If you're looking for a unique way to explore Northern Ireland, make sure to add a visit to Derry to your next trip; its rich history and charming atmosphere will surely leave you with unforgettable memories!
13. The National Trust Country Parks
Northern Ireland boasts some of the most stunning landscapes and breathtaking views in Europe, making it the perfect place to explore. One of the best ways to do this is with a trip to one of the National Trust Country Parks, where you can enjoy walks along cliff paths, beaches and countryside trails without a care in the world.
Whether you're looking for stunning views, historical monuments, or just a stroll in nature, Northern Ireland's National Trust Country Parks are a great place to experience all that Northern Ireland has to offer.
With an abundance of wildlife and plenty of hiking trails marked out for visitors to make their way around, these scenic locations give people an unrivalled opportunity to get closer to Northern Ireland's nature.
14. The North Coast Surf Schools
Northern Ireland is the perfect destination for anyone looking for a little outdoor adventure. From the beautiful coast to craggy cliffs, Northern Ireland has something for everyone. For surfers, Northern Ireland's majestic coastline provides an epic backdrop for some of the best waves in the world. Not only is Northern Ireland great for surfing, but it's also ideal for walking and all sorts of other outdoor activities.
With its breathtaking scenery, Northern Ireland offers travelers a chance to explore and experience nature in a way that they might not have before. Whether you're just getting into surfing or are already an experienced wave-rider, Northern Ireland will definitely provide you with unforgettable memories and breath-taking views.
15. Strangford Lough
Strangford Lough, a stunning coastal lake located in Northern Ireland, is an ideal spot for outdoor enthusiasts looking to enjoy a break from the hustle and bustle of city life. Walking through its lush green landscape provides an opportunity to experience Northern Ireland's breathtaking natural beauty.
It's also home to a wide range of outdoor activities, such as kayaking, fishing, and horseriding, allowing visitors to take full advantage of the area's rich and diverse environment. Strangford Lough is the perfect destination for anyone looking for a tranquil getaway that offers stunning views and exceptional activities.
Is Northern Ireland worth seeing?
Northern Ireland is a beautiful and fascinating country, with a rich history and culture, and stunning natural beauty. Whether you're interested in exploring historic landmarks, admiring scenic landscapes, or simply relaxing on the beach, Northern Ireland has something to offer everyone. So why not pack your bags and head to this amazing country today?
Frequent questions about visiting Northern Ireland
When is the best time to visit Northern Ireland?
If you're looking for a vibrant Northern Ireland experience, summertime is the destination. From June to August, temperatures are warm and days long – perfect for tourists! But if you prefer peace and quiet or like getting great deals on flights & hotels, consider visiting in autumn or winter instead; small crowds plus lower prices make it worth braving cooler weather conditions from December-February. No matter when your adventure happens though – all four seasons have something special waiting in store.
What are some must-see attractions in Northern Ireland?
Northern Ireland is a must-visit destination, offering an array of incredible attractions. Lose yourself among the otherworldly rock formations at the Giant's Causeway or take in views from atop the Carrick-a Rede Rope Bridge for an unforgettable experience! Learn about one of history's greatest tragedies at Titanic Belfast before checking out iconic shooting locations such as Dark Hedges – made famous by Game Of Thrones. Intrigued? The historic city Derry/Londonderry and gorgeous Mourne Mountains also await you along with breathtaking Glens Antrim – making Northern Ireland just extra special!
What is the currency in Northern Ireland, and can I use euros?
Northern Ireland is part of the United Kingdom and shares their currency: Pounds Sterling (£), which should be your go-to for smaller transactions. Although some merchants will indeed accept euros, you'll get the most bang for your buck with pounds in hand!
Do I need a visa to visit Northern Ireland?
Plan your next Northern Ireland getaway worry-free! If you're from the European Union or the European Economic Area, no visa is required. But if not don't fret; just check out the UK government website for details on any possible visa requirements – so you can bask in all of Belfast's beauty without a hitch!
What is the best way to get around Northern Ireland?
Want to explore the mysteries of Northern Ireland? Whether you're keen on sightseeing in bustling cities like Belfast and Derry/Londonderry or exploring the countryside, there's a method of transportation best suited for your journey! Hop onboard one of their public trains or buses for an urban adventure. If it's outdoor exploration that gets your heart racing, rent yourself a car and traverse through nature at your own pace. Or go with expert guides from various tour companies who know all the hidden gems this beautiful nation has to offer – now isn't that worth checking out?
What are some traditional Northern Irish dishes that I should try?
Northern Irish cooking has something for everyone! Savor the savory flavors of a traditional Irish stew, complete with lamb or beef and vegetables. Spice up your plate with Champ- mashed potatoes paired perfectly with scallions. Get an early start to each day the 'Ulster Fry' way – sizzling bacon, sausages, black & white pudding plus fried eggs served on potato bread – yum! And don't forget about those classic carb loaded favorites like soda bread & wheaten brea…these will be sure to keep you going all morning long; slather them in butter and jam or honey for extra tasty indulgence. Bon Appétit
What are some popular shopping destinations in Northern Ireland?
Explorers of Northern Ireland won't want to miss out on the amazing shopping opportunities! From Belfast's Victoria Square, where you can find over 70 exciting stores, cafes and restaurants – or Derry/Londonderry's Foyleside Shopping Centre with its 50+ retail outlets. Plus Newry boasts an impressive Buttercrane Centre packed full of goodies across more than 70 shops. And don't forget all those inviting independent boutiques scattered around this magical country – they have a unique selection of locally made products that are truly one-of-a kind!