Table of Contents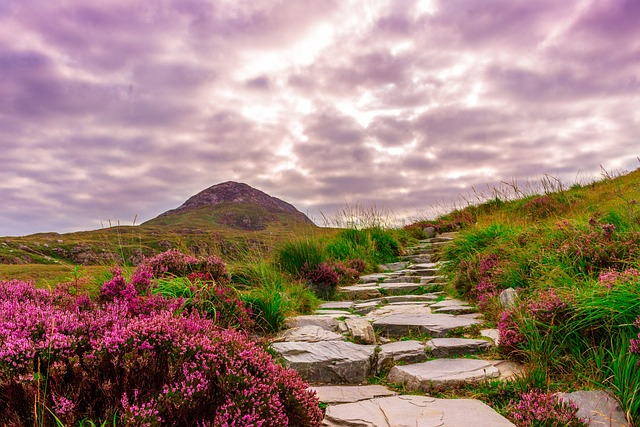 Ireland's climate is mild throughout the year, but there are critical periods when conditions are most favourable for outdoor exploration. Generally, the best time to visit Ireland is April through September, which offers the clearest and driest weather, particularly in the east and south of Ireland. Regarding Ireland hiking tours, picking the best time of year can make all the difference.
What is the best time to visit Ireland for hiking tours?
For those looking to tackle more challenging terrain or explore remote trails, late summer through to autumn (August-October) is usually the best time to go, as this also provides some of Ireland's most beautiful autumn colours.
If you're looking for Ireland hiking tours, remember that the best time to go varies depending on what type of terrain you want to explore and locate. Whatever your preferences are, Ireland has something for everyone – and the country's diverse landscapes make it a must-visit destination for hiking enthusiasts. Ireland is waiting – so grab your hiking boots and get exploring!
What's the weather like in Ireland?
The weather on Ireland's islands influences much of the ocean. Ireland usually can escape extraordinarily high and low temperatures experienced by the US and Europeans at the same latitudes as the European Union.

In general, the summer is mild in Irish. In the summer, the average temperatures are between 18-20 degrees Celsius. Winter is usually cold and wet. The temperature in winter can drop to as low as 0 degrees Celsius.
Rainfall is prevalent throughout the year, and at any time of the year you visit, you'll need to pack an umbrella or raincoat. Ireland also experiences strong winds, making waterproof clothing a must-have for hikers.
Ireland is very much subject to rain year-round but has an abundance and frequency that vary by province. The west coast receives more rainfall each year and more days with wet precipitation per year than the eastern coast and inlet.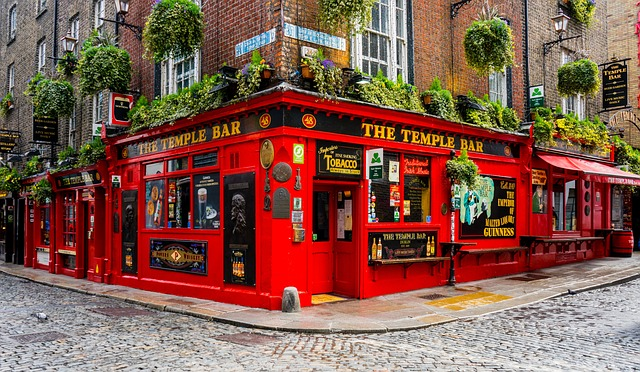 Dublin is the driest place on the east coast of Ireland and received around 801 mm of rain in 2019. Newport, County Mayo, in the West of Ireland, receives approximately 800 millimetres (72 inches) of rain annually and receives at least 1mm of rainfall in the spring of each year.
The best time to visit Ireland for a walking or hiking tour
April to October offer the ideal conditions for Ireland's hiking tours, with June and July usually the warmest months.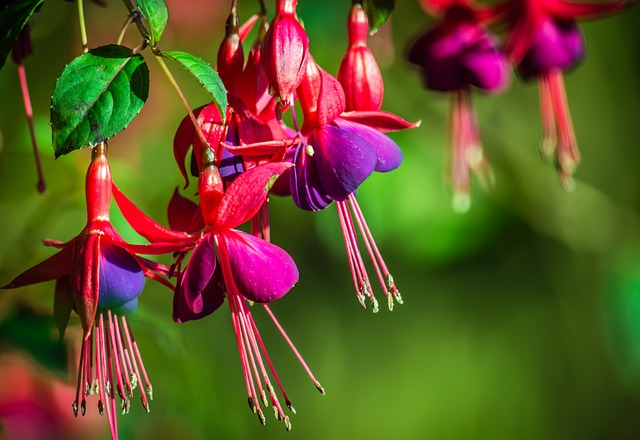 From April to May, temperatures get warmer, and spring flowers peak, making for a nice entrance into summer. Vivid fuchsias lining the roads along the west coast, particularly around Kerry, begin to flower.
Visiting Ireland in June, gardens throughout Ireland sing with vibrant hues and warm weather. The temperatures are pleasantly warm. This would be an ideal time to visit one of Ireland's National Parks
June and July is the best time to visit Ireland. It is the peak season for walking tours, with pleasant temperatures and longer daylight hours, with many hikers enjoying the mid-summer guided night hikes that Ireland offers when there is a full moon. Summer visitors flock to Ireland for walking holidays and city breaks, and this means that, unfortunately, the prices rise accordingly. This is especially true during bank holidays when the Irish go for short breaks to county cork and Kerry.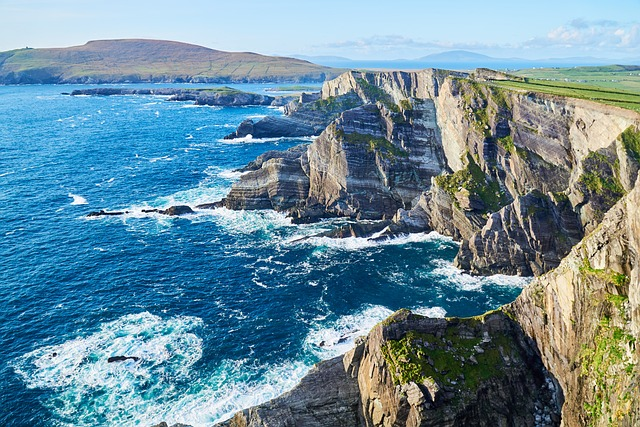 From August onwards, Ireland will start to cool down again as fall approaches. Weather in Ireland in August and throughout the summer rarely breaks 70°F. With flora and fauna at its greenest and most agreeable Ireland weather, summer is considered one of the best times to visit Ireland. The lush landscapes don't stay breathtakingly green without getting water.
However, September offers slightly cooler with an average temperature between 13-16˚ Celsius, or 55-60˚ Fahrenheit. The autumn months are still an excellent time for Ireland's outdoor activities. The air is clear and crisp, making it perfect for those looking to take advantage of Ireland's beautiful scenery and mild winter climate.
In October, Ireland remains vibrant and full of life, with the many festivals Ireland has to offer. The weather cools slightly but is still pleasant for hiking in Ireland's countryside, even in windy weather.
Visiting Ireland in the peak season
The best time to visit Ireland for a hiking holiday is typical during the summer months of June, July, and August. Summer is the most popular season for visiting Ireland for walking tours, as the weather is generally mild and sunny.
During this time, the weather is generally mild and dry. The days are long, with plenty of daylight hours to make the most of your trekking experiences. During the tourist season, especially during the bank holiday weekends, the pub's bustle with live and traditional Irish music.
St. Patrick's Day is a public holiday in Ireland that is celebrated annually on the 17th of March. Ireland takes this day to honour their patron saint and celebrates with parades, festivals and other activities around Ireland. On this day, tourists flock to Ireland for traditional music, dancing and feasting. Although Ireland experiences rain year-round,
Galway International Arts Festival
Ireland hosts several festivals celebrating the best of art, music, theatre, and film. From smaller local events to large-scale international festivals such as Galway Arts Festival and Dublin Fringe Festival, Ireland can provide a great cultural experience alongside your hiking adventure.
Best time to visit Ireland for James Joyce and Bloomsday
In mid-June, Bloomsday is celebrated in Dublin, focused on the life of poet and novelist James Joyce. Events & Festivals Bloomsday is a cultural festival with performances and readings of Joyce's works and Ireland's literary heritage.
Music festivals
During this time, you can also enjoy summer events such as Ireland's Electric Picnic, which takes place at Stradbally Estate in County Laois every August. Ireland is also home to some of the world's most renowned music festivals, such as Ireland's Oxegen Festival, held in Punchestown racecourse each year. There are also plenty of smaller-scale music festivals, such as the fantastic Cork Jazz Festival at the end of October each year.
If you're looking for a chance to explore Ireland's culture, why not visit one of these iconic events? You won't regret it! You can have an unforgettable time exploring Ireland with suitable accommodations and guidance.
Food Festivals
If you're looking to sample Ireland's top-notch cuisine, you can also participate in festivals such as Dublin's Taste of Dublin and Cork's Food & Drink Festival. Ireland is full of gastronomical delights; these events are a great way to try them out!
Finally, Ireland is a great place for sporting events. Ireland's premier football competition, the All-Ireland Football Championship, takes place each summer in stadiums around the emerald isle.
Fewer crowds in the shoulder season (Spring and Fall)
If you're looking for a more peaceful hiking experience, spring and fall shoulder seasons are an excellent time to visit Ireland or Northern Ireland. The weather is still relatively mild, and there are also fewer walkers on the hiking trails, so you can enjoy the country's natural beauty in a more relaxed and peaceful setting.
The spring months of April and May are also great times to visit. The Irish landscape is a riot of colour, with wildflowers, purple heather and yellow gorse flowers all in bloom. In the fall, Ireland's countryside turns into a golden tapestry of colour, with trees changing to their autumn hues. The climate is milder in Ireland than in most European countries, so you can enjoy your hikes without overheating or getting too cold.
Hiking in Ireland in the winter months
Winter weather can be challenging to hike in Ireland and Northern Ireland, with cold weather that is wet and windy. The daylight hours are also significantly shorter, meaning longer routes are much more challenging. However, it can be a magical time to visit if you're prepared for the conditions.
On the plus side, the trails are quieter, and the landscapes are sometimes covered in snow, making for some truly stunning scenery.
If you're planning to hike in the winter, you must be adequately equipped with warm clothing, waterproof gear, and good hiking boots.
So, what is the best time to go to Ireland?
Overall, the best time to visit Ireland for a walking holiday depends on your preferences and the type of experience you're looking for. If you're looking for mild weather, long days, and plenty of sunshine, summer is the best time to visit. Spring and fall are also great options if you prefer a more peaceful, relaxed experience.
Winter can also be quite enjoyable, though you'll need to be prepared with the necessary gear and clothing. No matter when you decide to come, there will always be stunning scenery and plenty of activities to enjoy. Ireland is a beautiful country and has something for everyone!
No matter what time of year you choose, one thing is for sure – a walking holiday in Ireland will be an unforgettable experience. So, explore this beautiful country and all it has to offer! Happy planning!